Shetland Saxon 013 "Wild Dream"
---
A previous owner had obviously taken the easy option, so we had this:
Functional, but hardly aesthetically pleasing; I assumed it hid some horrors: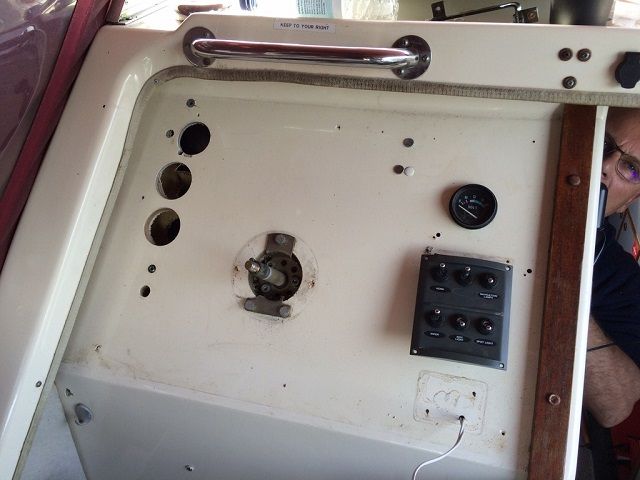 Take a bow, Al...
A little effort produced this:
Looks a lot better, and will do for now
Shetland Saxon 013 "Wild Dream"
---
We also added a couple of LED strip lights above the dash either side to act as down-lighters, simple and effective: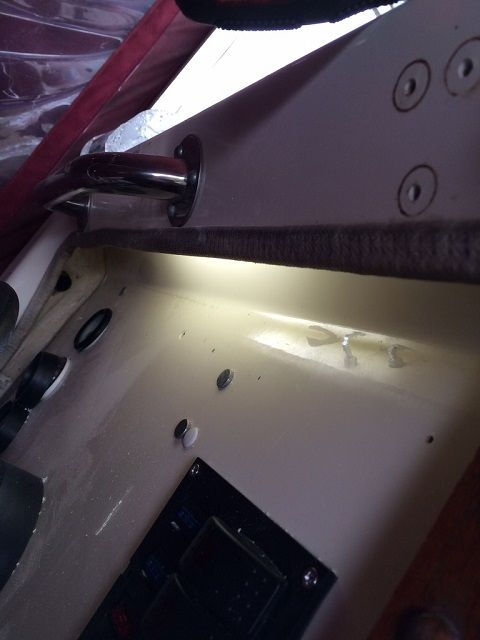 When testing, we found that the screen wiper didn't work...it had power, and an earth but no movement so I had a look inside....
Yep, not working and pretty much beyond repair...
, so a new motor and arm was fitted...
Shetland Saxon 013 "Wild Dream"
---
That's pretty much it as far as far as the rewire goes; one or two little jobs left to finish when it gets a bit warmer ( connecting the fuel and water tank gauges, replacing the shore power wiring and plugs, adding one or two lights depending on how we like what we've got) but there's still plenty of other jobs to do..
The canopy had seen better days; the material had stretched and sagged so water was pooling between the top rail and the top of the screen rather than running off...this then leaked into the cockpit, and made entering or exiting after rain somewhat of a cold shower gamble..
I had to bite the bullet on this so suggested to my wife that our Christmas present to each other could be a new canopy
I was pleased when she agreed, so we ordered a new canopy for fitting in the spring...
Meanwhile, I had been told that there was a PVC winter canopy stored in the locker in the front so dragged that out to have a look...
It's just visible in this picture:
However, underneath the spare canopy was lurking a surprise....
A made to measure heavy duty winter cover...bit of a result
I'm now in the unenviable position of having 2 spare canopies for a boat that only had a production run of 36 so if anyone knows another Saxon owner...
and that brings us more or less up to date: There is still plenty to do and I'll try and keep this updated as I go along...
Shetland Saxon 013 "Wild Dream"
---
Posts: 99
Joined: Fri Nov 08, 2013 6:54 pm
Location: Black Hawk "Atlast"Ullswater, now a 4+2
Hi DavidW what a cracking looking boat,never heard of that one,I've been following your progress on her make-over,it appears that you and your helpers are having the time of your lives,well done,cheers Magicflack
---
Thanks Magic...

So far it's been mostly fun and enjoyable...you certainly get to know your boat when you pull it apart..

We've got some more plans for this year including new seats, upholstery and trim, although these are not desperate and will be done as and when..we need to get her out on the Nene and enjoy her...
Shetland Saxon 013 "Wild Dream"
---
Unashamedly bumping my own thread with another update
After a winter of back and forth trips to make sure the cover stayed on, and that the ropes were slack enough with the fluctuating water levels; the weather warmed up enough to start the jobs I'd been dreaming up over the imposed break.
First job was to clean all the winter dirt off, put on the new canopy and fenders and make her look pretty again...
Before:
After: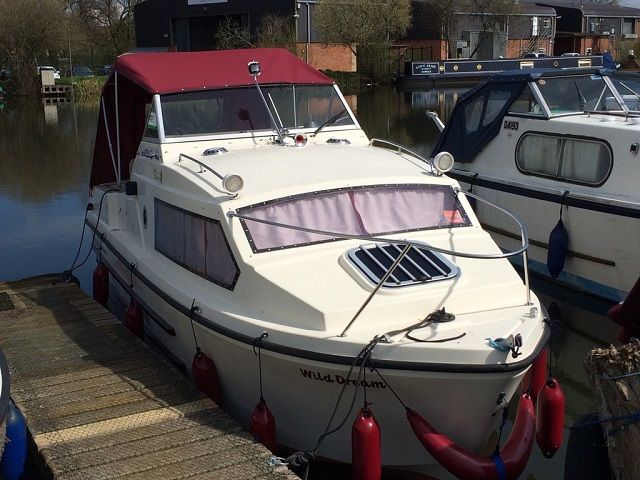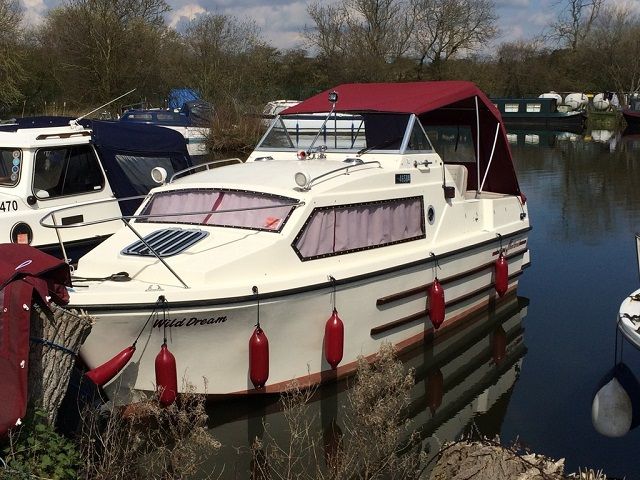 I would like to be able to take the credit for the shiny vessel but in all honesty, Vlad and his team who have a car wash in the marina used a jet wash and a large dollop of elbow grease to bring her up spotless far more quickly than I could have done. When needs must...
With the rewire complete, we installed a new Tuner (CDs are so last century
) and speakers to give us something to work along to as we turned our attention to other jobs and the rapidly approaching expiry of the BSS Certificate...
The electrical panel in the picture is redundant but until I can find something to cover the 5" x 5" hole it'll leave in the bulkhead it'll stay put..
Shetland Saxon 013 "Wild Dream"
---
The next job on the list was the fuel system: There were two outboard tanks, an 11 litre metal and a 20 litre plastic. Also present was a stainless steel inboard tank of unknown capacity. It was bonded in and earthed but had never been used.
The two portable tanks were balanced atop of each other on a household stool as a support. They weren't restrained in any way and would never have passed the BSS inspection.
So, a fuel level sender unit and gauge and a fuel line adapter for the tank were ordered, and after a thorough cleaning of the tank, and the installing of a filter in the fuel line, we poured in a little petrol to test for leaks..Nothing..Result!! We tried a little more; still no leaks so we connected the fuel line, started the engine and success...everything runs smoothly and a shakedown run around the marina didn't throw up any problems, although I forgot to take any pictures of the new installation.
Incidently, there is also an inboard water tank on the opposite side; that too has been recommissioned so that I can balance the weight of the fuel...
Having sorted the petrol, next on the list was the gas. I can barely function without a constant supply of tea and thus I deem it essential to have a warm kettle close to hand.
I considered replacing the entire system for piece of mind, but I do have to consider the budget...I tend to try and grab a bargain when I can, even if it sits in the shed for months until I'm ready to use it...I certainly don't have an unlimited budget or a mythical bottomless wallet...
Upon detailed inspection, the pipework (old imperial 1/4" with a thicker wall) was found to be in excellent order and thus we invoked the old adage.."if it ain't broke...". I replaced the regulator and hose (dated 1996, so out of date about 15 years ago!!) and used new fittings to connect a new metric hob to an imperial pipe. The old hob, which had a stint on Noah's Ark by the look of it,had no flame failure device and wouldn't have passed inspection. This was mentioned in the pre purchase survey last year so a bargain replacement was found in a sale and stored until I was ready to install it.
Thus we had flame:
Shetland Saxon 013 "Wild Dream"
---
I had replaced the fire safety equipment immediately after purchase because it was all out of date; and added Smoke and Carbon Monoxide detectors so it was now just a case of arranging the BSS inspection and crossing my fingers...
She passed!! I used the same examiner who had carried out my pre purchase survey and he was able to see the improvements we had made from her original state...It's only a small thing but there is a certain sense of satisfaction when a project comes to fruition, especially as it was a bit of a steep learning curve at times...but I do know my boat intimately now
At this point, I should say a huge thank you to my wife who is supporting this project with good grace, and to my comrade in arms, Al the Deckhand whose help and advice has been invaluable.
However, this is no time to rest on my laurels: Over the winter I had plenty of time to muse about what to do next...I have an overall vision and the main idea is to modernise and improve to suit myself...
Anyone familiar with Shetlands, particularly the Saxon and the 4+2, can understand that what was fashionable at the time of build can look a little...er..dated..with the passage of time and my boat is cursed with a grey laminate trim and cheap wood trim...
Like this: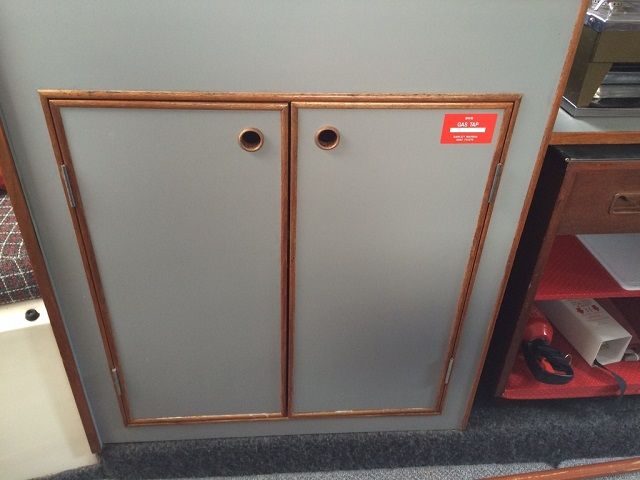 Its everywhere, all the cabin interior surfaces and the cockpit doors are the same, so, in order to make the cockpit area a nicer place to sit, I had a bit of a think and came up with a simple but I think effective idea...I went back to Blue Peter days and got myself some sticky backed plastic, blagged some stainless trimmings, removed all the wood trim, sanded, stained and varnished it and ended up with this...
Its in keeping with my red and grey theme and it brightens the place up a bit
I also had these made up as number plates:
I am toying with the idea of mounting them on some stained wood to match the door surround and trim like so: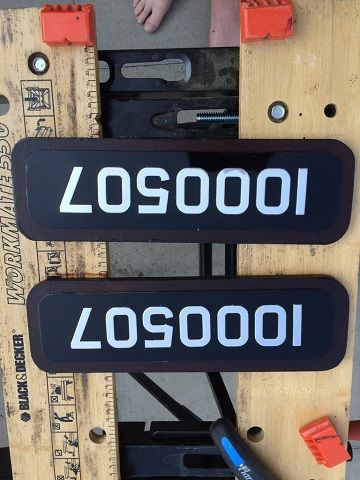 Not sure on that one yet...
I also made a new step/ gas locker lid from a scrap piece of 3/4' ply and a handy offcut of bright red doormat..certainly seems to look the part and doesn't creak ominously when I tread on it now..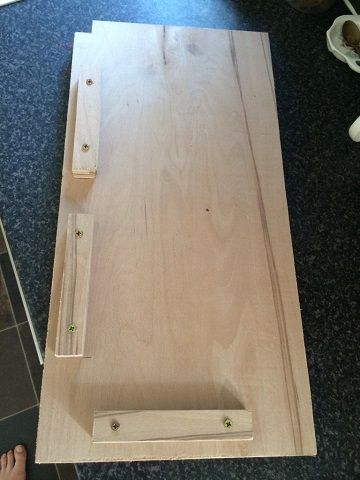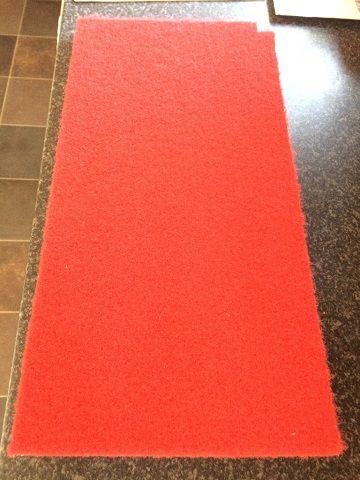 That's about it for now; I've got plenty of other ideas bouncing around including removing all the old stained Hessian in the cockpit and doing something to tidy it up, re-upholstering the seats and fitting new helm and co-pilot seats...however, for the time being I want to get some use out of her....I will post another update when I've done a bit more...
Shetland Saxon 013 "Wild Dream"
---
Looks fantastic. You've done a great job!
---